Wealth Management Services for a Better Future
ProsperityPrivate Investments offers comprehensive and personalized Wealth Management services to help you build and preserve your wealth.
LEARN MORE BELOW

Services for Every Part of Life
Comprehensive and customizable offerings
ProsperityPrivate Investments will provide you with the client-first services that our trusted financial advisors value, paired with the resources and support of Raymond James, an international financial services firm.
Asset Management
Business succession planning
Charitable giving and gifting strategies
Corporate benefits planning
Education planning
Estate planning
Fixed income services
Tax planning
Integrated wealth management
Longevity planning
Retirement planning
Insurance and risk management***
***Insurance and annuities offered through Raymond James Insurance Group, Raymond James & Associates, Inc. and Raymond James Financial Services, Inc. are affiliated with Raymond James Insurance Group.
Raymond James, ProsperityPrivate Investments and Prosperity Bank do not provide tax or legal advice. Please discuss these matters with the appropriate professional.
The Financial Planning or Consulting services listed are generally those offered under the Wealth Advisory Services Agreement. However, fees and services are customized with each client agreement. For a complete list of fees and available services, please consult the most current Form ADV Part 2A and the Wealth Advisory Services Agreement that you may obtain from your Investment Adviser Representative.
Our Advisory Process
These time-tested steps help us build a financial plan personalized to you.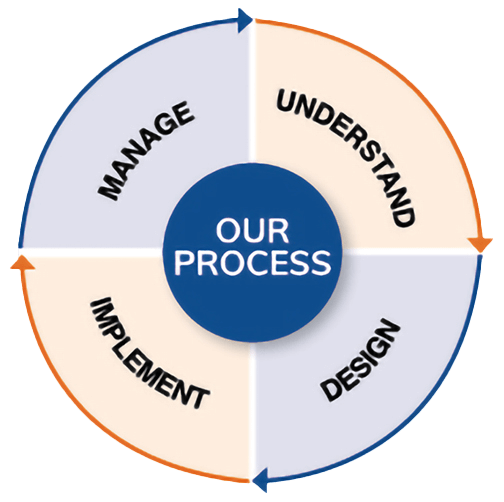 We'll build an understanding of where you are today and what you want to accomplish in the future.
We'll analyze what you've shared with us to design your plan, then present it to you and answer any questions you may have.
With your approval, we'll implement your plan, select the specific investments and handle all the paperwork.
We'll review the progress of your plan to make sure it stays on track, and suggest any changes where needed.
Trusted Financial Advisors
At ProsperityPrivate Investments we are committed to helping our clients turn their aspirations and financial goals into realities.
Asset Management
An array of investment strategies* that align with your goals

Your financial goals are unique - your plan to pursue them should be as well. That's why we review a multitude of investment strategies, managers and products, identifying those that fit your financial goals, taking into consideration their potential for growth, capital preservation, income and other factors specific to your situation.

Alternative Investments
Annuities and Insurance
Concentrated Equity Strategies
Equity and Fixed Income Strategies
Exchange Traded Funds
Mutual Funds

Options
Separately Managed Accounts
Structured Investments
Unified Managed Accounts
Wrap Accounts
529 Plans
*Investing involves risk and you may incur a profit or loss regardless of the strategy selected, including diversification and asset allocation. A copy of the current options disclosure document can be obtained from your financial advisor. Options are not suitable for all investors.
In a fee-based account, clients pay a quarterly fee, based on the level of assets in the account, for the services of a financial advisor as part of an advisory relationship. In deciding to pay a fee rather than commissions, clients should understand that the fee may be higher than a commission alternative during periods of lower trading. Advisory fees are in addition to the internal expenses charged by mutual funds and other investment company securities. To the extent that clients intend to hold these securities, the internal expenses should be included when evaluating the costs of a fee-based account. Clients should periodically re-evaluate whether the use of an asset-based fee continues to be appropriate in servicing their needs. A list of additional considerations, as well as the fee schedule, is available in the firm's Form ADV Part 2 as well as the client agreement.
What are you planning for?
Markets and Investing Resources
Here are some timely articles and resources from Raymond James that will help you better understand the markets and investing.
Disclosures
©2022 Securities offered through Raymond James Financial Services, Inc., member FINRA/SIPC, and are not insured by any financial institution insurance, the FDIC/NCUA, or any other government agency, are not deposits or obligations of the financial institution, are not guaranteed by the financial institution, and are subject to risks, including the possible loss of principal. Investment advisory services are offered through Raymond James Financial Services Advisors, Inc. Prosperity Bank and ProsperityPrivate Investments are not registered brokers/dealers and are independent of Raymond James Financial Services, Inc.
Third-Party Links: Certain links may let you leave the Prosperity Private Investments Website. The linked websites are not under the control of Prosperity Bank nor ProsperityPrivate Investments and We are not responsible for the content of any linked website or any link contained in a linked website, or any changes or updates to such websites. ProsperityPrivate Investments and Prosperity Bank are providing these links to you only as a convenience, and the inclusion of any link does not imply endorsement, investigation, verification, or monitoring by us of such third-party websites.